Kos Archaeological Museum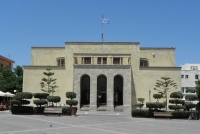 Kos Archaeological Museum © Tedmek
Displaying mainly Hellenistic and Roman treasures found in and around Kos Town and dating from as far back as the 3rd century BC, the Archaeological Museum allows visitors a glimpse into the former glory enjoyed by this quaint port town. The museum is in Eleutherias Square and is housed in a two-storey neoclassical building which is itself a monument, dating back to 1935 and the Italian occupation. The museum's collection includes artefacts and archaeological findings from Kos and surrounds and even Rhodes and there are pieces on display from sites like ancient Asklepeion, the Altar of Dionysus, the Odeon and the Roman Residence. From original mosaics of Hippocrates, who taught here, to statues of Asklepieion, Artemis and Hygeia found north of Decumanus Maximus, a trip to the Archaeological Museum provides a good foundation of knowledge for visitors who plan to explore the surrounding sites. Many remarkable and valuable sculptures, mosaics and coins, among other things, are on display and the museum is well arranged and labelled.
Regrettably, this wonderful museum has been closed recently for renovation and it is unclear when it is due to reopen. To avoid disappointment, check beforehand whether visitors are being admitted.
Address: Plateia Eleftherias
Opening times: Tuesday to Sunday 8.30am to 3pm.
Admission: €3 (adults), €2 (concessions). Free entry for children under 19 years of age.