Great Bell Temple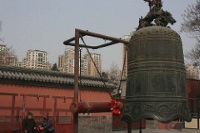 Great Bell Temple © Bridget Coila
The Qing Temple is home to the Ancient Bell Museum (Gu Zhong Bowuguan) and is a must see for travellers en route to the Summer Palace. The temple, originally known as 'Awakened Life Temple', apparently wasn't experiencing enough 'awakening' and a 47-ton bell, with a height of 22.7 feet (6.9m) was transported to the temple on ice sleds in 1743. The bell is inscribed with Buddhist Mantras on both the inside and outside of the body and features over 227,000 characters in all. The bell was often chosen by the emperors to pray for rain and blessings for the people of China and was one of three projects that Emperor Yongle in the Ming Dynasty (1368-1644) commanded after re-establishing Beijing as the capital; the other two were the Forbidden City and the Temple of Heaven. The bell is considered as an auspicious article in the Chinese tradition and nowadays it is rung 108 times to begin the celebrations at grand ceremonies. There are a further 31 bells on display in the Ancient Bell Museum, most with tributes to various emperors inscribed on them. Like many tourist attractions in China, the written material in English is limited, but the temple is definitely still worth a visit.
Address: Bei San Huan Xi Lu 31A
Website: www.dazhongsi.org/
Telephone: (0)10 6255 0819
Transport: Bus routes: 361, 422, 425, 326. Metro: Da Zhong Si (1302, exit A)
Opening times: Open Tuesday to Sunday 8:30am-4pm
Admission: CNY10 for entry to the temple and museum, and an additional CNY2 to climb the Bell Tower.