Pak Ou Caves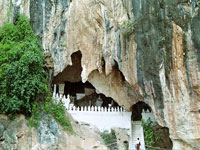 About two hours by boat from Luang Prabang lie the Pak Ou Caves, which are only accessible from water. This attraction has visitors rather divided: some find it an intriguing place of spiritual power and others don't understand what the fuss is about. Most agree, however, that the scenic boat trip to reach the caves is fun and worthwhile. A lower and upper cave contain an impressive collection of mostly wooden Buddha statues assembled over the centuries by locals and pilgrims. Each year, hundreds of pilgrims come to these caves to add a statue to the growing collection. The assortment of Buddhas - some in hard to reach places - is very interesting and there are some quite unusual specimens on display; anyone interested in religious icons will find the place fascinating. The upper cave (Tham Theung) is reached by means of a flight of stairs and requires the use of a flashlight, while the lower cave (Tham Thing) is visible from the river. If you want to explore the more mysterious upper cave then be sure to bring your own torch, or money to buy one at the entrance. Photos are permitted and you can light candles as a tribute. The trip to the caves is often combined with visits to villages on the river banks or activities like elephant riding.
Transport: Boat from Luang Prabang
Admission: Caves: 20,000 kip per person.