Croatian National Theatre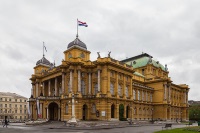 Croatian National Theatre © Diego Delso
The building housing the Croatian National Theatre (or HNK Zagreb) is as much a national treasure as the world-class theatre, opera, music, and ballet productions that take place on its stage. Construction began on the theatre building in 1894, with Croatian artist Vlaho Bukovac painting the ceremonial curtain while Viennese artist Alexander Goltz decorated the ceiling of the auditorium.
The building was officially opened by Austro-Hungarian emperor Franz-Joseph I at the end of 1895. The theatre is owned and operated by the Croatian Ministry of Culture and it is constantly busy with full performing arts programmes. At the entrance to the theatre visitors can see the famed wall fountain called 'The Source of Life', designed by Croatian artist and sculptor Ivan Meštrovic in 1905.
The Croatian National Theatre has hosted famous artists and performers from all over the world and culture vultures shouldn't miss seeing a show. If travelling with a group, the mezzanine boxes are a wonderful way to experience the performances together. It's worth taking a walk by simply to admire the building even for those who don't have the time to catch a performance at the venue itself.
Address: Trg Marsala Tita 15
Website: www.hnk.hr/en