Kuang Si Falls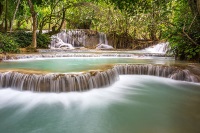 Kuang Si Falls © Anne Dirkse
Frequently the top-rated attraction in Luang Prabang according to tourists, the beautiful multi-tiered Kuang Si Falls are worth a trip for their refreshing beauty and serenity. Turquoise-green water tumbles over a series of limestone terraces and collects in lovely pools that are surrounded by lush greenery. Walkways lead around the base and to the summit, about 200 feet (61m) up, and there are numerous places to picnic. There are also things like rope swings, branches and rocks to jump off and the swimming is glorious so be sure to bring your swimwear. It is best to get to the falls as early as possible before the crowds arrive to really appreciate the natural splendour and get good photographs. The falls are about 18 miles (29km) south of Luang Prabang.
Located right opposite the Kuang Si Falls is the Bear Rescue Centre, which is a worthwhile attraction and a good excursion to combine with the trek to the falls. The centre houses endangered Asiatic Black Bears rescued from poachers. Asiatic Black Bears are affectionately known as 'Moon Bears' because of the yellow crescent markings on their chests and they are very entertaining animals. The centre does important work and is a must-see for animal lovers.
Transport: Hire a motorbike or tuk-tuk and driver for the day. Motorbikes usually cost about $25 for the day while tuk-tuks will cost more but can accommodate up to four passengers. It is possible to bargain with the drivers and get a better deal.