Kuang Si Falls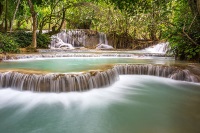 Kuang Si Falls © Anne Dirkse
Tourists frequently rate the multi-tiered Kuang Si Falls as the top attraction in Luang Prabang. The serene location sees turquoise-green water tumble over a series of limestone terraces and collect in lovely pools, all of which are surrounded by lush greenery. Walkways lead around the base and to the summit, and visitors will find many places to picnic. The swimming is glorious, with rocks, branches and rope swings providing fun ways to enter the water. Given their natural splendour, it's no surprise that the falls get crowded. Travellers should visit as early as possible to fully appreciate the location and take good photographs. The falls are about 18 miles (29km) south of Luang Prabang.
Transport: Hire a motorbike or tuk-tuk and driver for the day. Motorbikes usually cost more for the day than tuk-tuks, and the latter can accommodate up to four passengers. It is possible to bargain with the drivers and get a better deal.
Admission: A small fee of about $2 is sometimes asked of visitors.