Palace Square (Schlossplatz)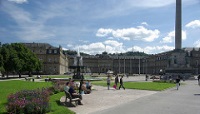 Palace Square © Stefan Fussan
The symbolic heart of Stuttgart, the Schlossplatz or Palace Square, is a popular meeting point for locals and travellers alike, with the beautifully Baroque New Palace providing a majestic backdrop. The former residence of kings, the New Palace was built between 1746 and 1806 and is now a base for the state government of Baden- Wurttemberg. If the New Palace feels a bit French it's because the Duke Carl Eugen of Wurttemberg wanted to create a Versailles in Stuttgart. The König Wilhelm Jubilee Column, rising in the fore, was erected in 1841 in honour of King Wilhelm's silver jubilee (25 years of reign), and the statue of Concordia, the Roman goddess of harmony at the pinnacle, added in 1863. The two fountains were built at the same time, with the eight cherubs each representing one of Wurttemberg's rivers.
There's always something going on in the square, even if it is just musicians busking and strolling locals. Those lucky enough to visit over the Christmas season should make sure to visit the Christmas market at the Schlossplatz.
It is possible to catch the hop-on hop-off tour bus from the square, which is a popular starting point for explorations of the city.
Transport: Stuttgart's underground stops directly beneath Schlossplatz.