Old and New State Gallery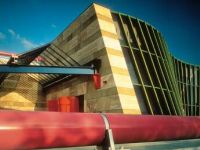 Built between 1838 and 1843 under King Wilhelm I of Wuerttemberg, the Old State Gallery in Stuttgart features a presitigous range of paintings, drawings, sculptures, watercolours and prints from the 14th to the 19th centuries, with Jerg Ratgeb, Canaletto, Memling and Rembrandt taking centre stage. Connected to the Old State Gallery on the same level is the New State Gallery, dedicated to the art of the 20th century. Looking at important schools within various art movements like Fauvism, German Expressionism, Die Brucke and Cubism, the New State Gallery includes works by masters such as Picasso, Beckmann, Schlemmer, Beuys, Kiefer and Klee. A common criticism of this otherwise very popular gallery is that there isn't much seating available in the actual exhibition rooms but if you need a break the museum has a restaurant and a cafe that serves lovely light meals and refreshments. There is also a gift shop.
Address: 30-32 Konrad-Adenauer Street
Website: www.staatsgalerie.de
Telephone: 711 470 40250
Transport: Catch the U1, U2, U4, U9 or U14 underground or bus number 40, 42 or 43
Opening times: Wednesday, Friday, Saturday, Sunday 10am to 6pm; Tuesday and Thursday 10am to 8pm; closed Mondays. Every year the website releases a list of special opening hours for public holidays.
Admission: Permanent collection: €5.50 (adults), €4 (reduced), free for children under 12 and on Wednesdays and Saturdays, €1 for under 20s. Special exhibitions: €10 (adults), €8 (reduced), children under 12 free, €2 for ages 13 to 20.