Porsche Museum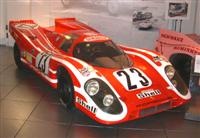 The Porsche Museum in Stuttgart is a retrospective of more than 75 years of Porsche engineering and memorabilia. Porsche is both the smallest independent German automaker and the world's most profitable automaker and this museum is extremely popular with pertrol heads but will also interest those who are not obsessed with cars as there is a lot to entertain and inform visitors. Although there used to be a much smaller Porsche Museum, the company wanted an inspiring place in which to display their corporate history and built and inaugerated an extraordinary building which opened to the public in 2009. The new Porsche Museum, which has become a city landmark, displays all the historical and contemporary knowledge about the Porsche brand as well as housing a collection of about 80 cars as well as a number of smaller exhibits. They also put up regular special exhibitions and you can check for details on these temporary treats on their website. The museum offers free audio guides which are available in eight languages and there is a special version for children.
Address: Porscheplatz 1 D – 70435, Stuttgart-Zuffenhausen, Germany
E-mail: info.museum@porsche.de
Website: www.porsche.com/international/aboutporsche/porschemuseum/
Telephone: (0)711 911 20911
Opening times: Tuesday to Sunday 9am-6pm.
Admission: €8 adults; free for children up to 14 years old.