Town Squares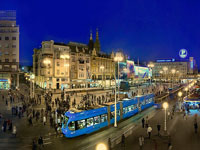 Jelacicplac Square © Miljenko Hegedic
Praska Street, in the lower part of old Zagreb, leads on to a sequence of attractive park squares, each flaunting their own attractions and worth a walking tour. Zrinski Square features a music pavilion dating from 1895 and fountains, with the Archaeological Museum at No.17.
This square also features a row of busts of distinguished Croatians and the palace of the Croatian Academy of Arts and Sciences, which houses the Strossmayer Gallery. On Strossmayer Square is a monument to Bishop Josip Juraj Strossmayer, founder of the academy, as well as several other historic buildings.
Tomislav Square features the Art Pavilion, fronted by a monument to Croatian Renaissance painter Andrija Medulic. King Tomislav rises on horseback at the southern end of the square. Starcevic Square is home to the City Library and Hotel Esplanade, and gives access to the Botanical Gardens and Frane Bulic Monument.
In Marulic Square, the University Library building stands as a magnificent example of Art Nouveau architecture. Mimara Museum is on Roosevelt Square, and the neo-Baroque Croatian National Theatre stands on Marshal Tito Square. Any or all of these squares are worth a visit so it is best to take a leisurely stroll around them all with camera in hand.