Aqualandia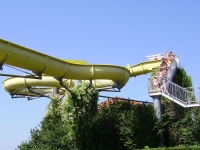 On the Lido de Jesolo is Aqualandia, an extremely popular water and theme park that has been earning rave reviews from visitors to Italy. Aqualandia is situated on a Caribbean island, near Venice, and just strolling around the place and lounging on the beaches is an adventure. Much more than a water park, Aqualandia has 26 attractions, including the highest water slide in the world and Europe's highest bungee jumping tower. All the expected, tried and tested water park attractions can be found, as well as lots of extra entertainment. A huge central pool is the hub for swimming and relaxation on the many comfortable loungers, and there are some fun shows and music events as well as lots of restaurants and shops, and the popular Vanilla Club for those who want to party. There is plenty to entertain people of all ages and dispositions making Aqualandia a terrific day-trip for the whole family. A fun day at a water park is a great treat for children and a nice break from traditional cultural sightseeing. All attractions, shows and activities are included in admission, except bungee jumping. In the peak summer period visitors should be prepared for long queues; it is best to arrive early to avoid a long line at the entrance.
Address: Via Buonarroti 15, Lido de Jesolo
E-mail: info@aqualandia.it
Website: www.aqualandia.it
Telephone: +39 042 137 1648
Transport: By car, exit the motorway before reaching Mestre; take the Mestre bypass toward the Marco Polo Airport. Continue along this road to Jesolo and follow the road signs to Lido di Jeselo. Signs to Aqualandia are displayed prominently.
Opening times: Opening dates for 2013 are 18 May to 14 September. Opening times are 10am to 6pm daily.
Admission: €29 (adult), €25 (children). Free for children under 1 metre tall!