Benaki Museum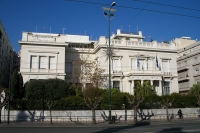 The Benaki Museum in Athens © Dimboukas
Established in 1930, the Benaki Museum is one of the most famous museums in Greece and houses artefacts ranging from the prehistoric to the modern. The permanent collection of the museum displays some 40,000 items illustrating Greek culture and history from antiquity to the present. The collection features Paleolithic and Neolithic relics, and covers the late Roman Empire as it merged into the Byzantine Empire, the centuries of Frankish and Ottoman occupation of Greece, and the outbreak of the struggle for independence in 1821, as well as the formation of the modern state of Greece. The Benaki also hosts temporary exhibitions, and gives interesting restoration and conservation workshops. There is also an attached Museum of Islamic Art, and separate exhibitions on Chinese and Coptic art. The museum Library holds a very valuable and extensive collection on topics relating to the museum's exhibitions and although you cannot borrow books the library is open to the public for study within the premises.
Address: 1 Koumbari Street & Vas. Sofias Avenue
Website: www.benaki.gr
Telephone: +30 21 0367 1000
Opening times: Wednesday and Friday 9am to 5pm, Saturday and Thursday 9am to midnight, Sunday 9am to 3pm, closed Monday and Tuesday and for several holidays - check the website for details.
Admission: €9 (permanent collection), €7 (temporary exhibitions), free admission on Thursdays, concessions available.