Lake Malawi National Park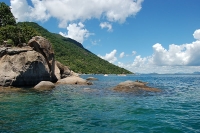 Lake Malawi © Joachim Huber
Established in 1980, Lake Malawi National Park is listed as a UNESCO World Heritage Site for its importance in the study of evolution. The lake is said to contain the largest number of fish species, nearly all endemic, of any lake in the world.
4th-century Iron Age sites have been found in the area, while mammals found in the region include baboons, vervet monkeys, spotted hyenas, leopards, and the occasional elephant. The varied bird life includes black eagles, fish eagles, and many waders. Reptiles include the African python, crocodiles, and abundant water monitor lizards, especially on Boadzulu Island.
At Cape Maclear, within Lake Malawi National Park, there are a variety of upmarket operations combining accommodation with lake activities. Danforth Yachting has a lakeside lodge and a 38ft catamaran available to visitors.
Mumbo Island and Domwe Island camps offer pleasant island retreats, while Cape Mac Lodge also offers accommodation and activities out of Chembe village. Pumulani is also considered one of the lake's finest lodge destinations.
The National Park is on the scenic northern tip of the Nankhumba Peninsula, which divides the southern end of Lake Malawi, with a number of sandy bays including a fine beach near Chembe and Otter Point. There are marked seasonal variations in wind, temperature, and rainfall.