Salima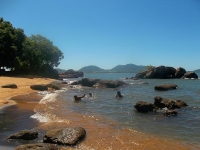 Salima © Marvin Khama Gama
Salima, the most convenient entry point to Lake Malawi, is a one- to two-hour drive from Lilongwe. The town is home to some great holiday resorts, such as Sunbird Livingstonia Beach Resort, and boasts some picturesque beaches.
Senga Beach, in Salima, is a popular weekend getaway for Lilongwe locals. Signposted just before Salima is Kuti Wildlife Park, which offers travellers campsites, A-frame chalets and a small restaurant, as well as bar and barbeque facilities.
Animals found in the park include sable, nyala, zebra, wildebeest, ostrich, giraffe and waterbuck. If you plan to visit during the rainy season, be sure to take a 4x4 as the roads can become tricky, even during the dry season (May to October).