Mount Mulanje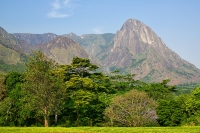 Mount Mulanje © David Davies
Mount Mulanje rises from the plains of southern Malawi with steep cliffs protecting a vast wilderness of granite peaks, dense forest, grassy meadows, and trickling streams. Hiking is the most popular activity here and few people visit for any other purpose.
It's essential for trekkers to hire a guide and porters from Mulanje village, and buy any provisions they may need before setting off into this picturesque but challenging wilderness. The first day's hike is gruelling as you climb steep mountain paths.
Once you reach the top, you enter an enchanting landscape. There are wood huts in which you can sleep and enough trails for days of walking. Climbers can scale some of the peaks and the prominent granite crags also provide a challenge.
The best time to hike is in the early dry season from May to July, when temperatures are moderate. On the plateau, it can still get reasonably cold at night and travellers should be prepared for rain whenever they visit.