Cahora Bassa Lake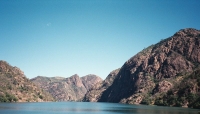 Cahora Bassa Hydroelectric Dam © EmjayE2/Magnus Manske
Situated in the Tete Province of Mozambique, Cahora Bassa is one of Africa's largest artificial lakes. One of three major dams on the Zambezi river system, along with Kariba and Itezhi-Tezhi, the Cahora Bassa Dam powers the largest hydroelectric scheme in southern Africa. The nearest town is called Songo, established in 1969 to house workers for the construction of the dam. There are a number of lodges and camps where tourists can stay, including Ugezi Tiger Lodge, which is quite close to Songo and has an à la carte restaurant, as well as a campsite with floodlights and security.
Great fishing is the dam's biggest drawcard and fishing trips are very popular, as the vast stretch of water contains a huge variety of fish, including tigerfish, sharptooth catfish, vundu, bream, longfin eels, and Zambezi parrotfish. Other attractions in the area include boat cruises and waterskiing. The lake and surrounding landscapes are very picturesque, with lush vegetation and dramatic mountainous scenery. There is a large population of hippos in the dam, and majestic Baobab trees can be found on the southern shores, while the area's rich birdlife will enthral bird enthusiasts. Sunset cruises and boat tours down the beautiful gorges of the dam are a must for travellers in the region.
Admission: Entry to the dam is restricted and visitors should speak to the owner of O Sitio restaurant about admission before leaving Songo.