Gorongosa National Park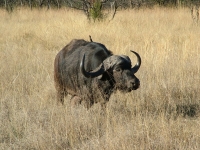 Often referred to as 'the place where Noah parked his Ark', Gorongosa National Park was a playground for the rich and famous back in the 1960s, lured by the abundance of wildlife in the area. The subsequent years of war and poaching decimated the wildlife count but programmes have since been put in place to restore the park's previous status. There are traversable roads to the park from both Beira and Maputo, and comfortable lodgings are available at Chitengo Safari Camp.
Transport: It is advisable to make this trip in a 4x4 vehicle.