Gorongosa National Park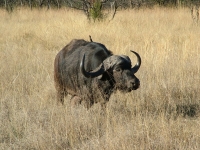 Buffalo are being reintroduced to the park © PaulRae
Often referred to as 'the place where Noah parked his Ark', Gorongosa National Park was a playground for the rich and famous back in the 1960s, lured by the abundance of wildlife in the area. The subsequent years of war and poaching decimated the wildlife count but programmes have since been put in place to restore the park's previous status as one of the richest wildlife refuges in the world. The park now includes the verdant Mount Gorongosa, which has lush rainforest on its summit and slopes and is the source of the life-sustaining rivers that traverse the reserve. The mountain is sacred to the local people and features prominently in folklore. The park contains a variety of terrain but is dominated by savanna and grassland, with some woodland and interesting limestone gorges. Even after being ravaged by 17 years of civil war and extensive poaching, Gorongosa National Park supports astounding biodiversity, with 398 bird species, 122 mammals, 34 reptiles and 43 amphibians that have been documented. Highlights for visitors include elephants, buffalo, lions, crocodiles and zebra. There are traversable roads to the park from both Beira and Maputo, and comfortable lodgings are available.
Website: www.gorongosa.org/
Transport: It is advisable to make this trip in a 4x4 vehicle.
Opening times: Park is closed between mid-December and mid-April.