Ponta d'Ouro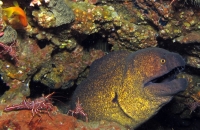 Go diving in Ponta d'Ouro © Derek Keats
Located along a sandy road just south of Maputo, Ponta d'Ouro is home to some of the most perfect waves in Africa. Offering spectacular dive sites and a wealth of sea creatures, it is a popular destination with surfers, divers, and underwater enthusiasts.
Swimming with dolphins is a must and can be a deeply rewarding and life-changing experience. Stroll along white beaches stretching far into the distance or explore the rock pools full of colourful shells and corals.
Local specialities and trinkets include the locally produced Tipo Tinto Rum, tasting slightly of vanilla and perfect with pineapple or raspberry juice, as well as hardwood carvings in all shapes and sizes. Customers should avoid beautiful shells as they may potentially have been stolen off local reefs.
Tours of local pubs, called shebeens, allow visitors to explore the rustic drinking-houses along a stretch of rough road. Accommodation ranges from rustic to luxurious, with lovely campsites right on the beach. Ponta d'Ouro is accessible from South Africa, making it a great addition to a tour of southern Africa.