Tofo Beach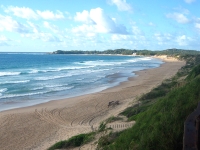 Tofo Beach © Erik Cleves Kristensen
Tofo Beach is in the Inhambane Province of Mozambique. It has certainly become a hotspot for young travellers, with beautiful stretches of beach, a friendly laidback atmosphere, an entertaining nightlife, and great diving and snorkelling sites.
Restaurants in Tofo mostly specialise in seafood and piri-piri spiced dishes. The bustling nightlife owes much to the many beach bars, with Fatima's Nest and Dino's Bar and Grill drawing big crowds.
Those looking to get away from the throngs of tourists can find local taverns on the edge of town. Tofo, easily explored on foot, also has a market in the centre of town, and you can buy local art on the beachfront. However, those looking for authentic culture and history may be disappointed.
The main draw of Tofo is the natural beauty, with pristine beaches perfect for swimming, diving, and water sports. There's amazing scuba diving at popular sites like Manta Reef, and the chance to spot humpback whales, reef sharks, and whale sharks. Beware of jellyfish though, as the giant Portuguese man o' war float through in swarms.