Tofo Beach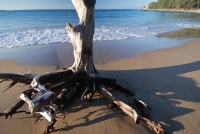 Another beautiful Mozambique beach © imolcho
Described as 'the next Goa', Tofo Beach is in the Inhambane Province of Mozambique. It has definitely become a hotspot for young travellers, with beautiful stretches of beach, a friendly laid-back atmosphere, good restaurants, an entertaining nightlife and some great diving and snorkelling sites.
There are many restaurants in Tofo, most specialising in seafood and peri-peri spiced dishes. Casa Barry has good seafood and views, and Bamboozled has all-you-can-eat buffets. There are also a number of beach bars and a bustling nightlife, though Dino's Bar and Restaurant and Fatima's Nest are the biggest hotspots. Those looking to get away from the tourist crowds can find local taverns on the edge of town. Tofo also has a market in the centre of town, and you can buy local art on the beachfront. However, those looking for authentic culture and history will be disappointed.
Of course, the main draw of Tofo is the natural beauty, with pristine beaches perfect for swimming, diving, and watersports like surfing, kitesurfing and bodyboarding. The area is a scuba diving hotspot, with popular sites like Manta Reef, and the chance to spot humpback whales, reef sharks, and whale sharks. Beware of jellyfish though, as giant Portuguese Man-of-War float through in swarms.
Transport: Tofo Beach is small and can be easily explored on foot.