Desert Botanical Garden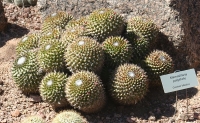 Desert Botanical Garden © Dave Pape
The Desert Botanical Garden gets high ratings not only for the size and range of its collection, but also the inventive ways visitors can immerse themselves in the desert. With about 21,000 plants representing 139 species, the Desert Botanical Garden was founded in 1939 to provide a fascinating and colourful introduction to the ethnobotany of the region. A highlight is the Plants and People of the Sonoran Desert Trail which allows you to make your own yucca-fibre brush and grind corn as the Native Americans once did. Over November and December the gardens are lit up at night by beautiful luminarias (candles inside small bags), meaning plenty of worthy photography material.
Address: 1201 N Galvin Parkway
Website: www.dbg.org
Telephone: (480) 941 1225
Opening times: Daily 8am-8pm
Admission: $25 adults, $13 children.