Heard Museum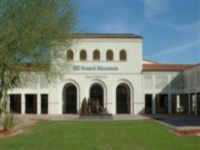 The Heard Museum © Kirs10
The Heard Museum is home to America's finest collection of Native American art, making this an essential attraction for visitors looking to gain an understanding of the West's original inhabitants. In total there are more than 39,000 works of cultural and fine art ranging across textiles, katsina dolls, pottery, jewellery, baskets, cradleboards, paintings and sculpture. There are about 10 galleries with dynamic and imaginatively curated exhibitions. Don't miss the annual Guild Indian Fair and Market (March) which includes traditional dance performances along with arts and crafts. The museums signature exhibition is Home: Native People in the Southwest, which uses a variety of media to take visitors on an unforgettable journey through the region and the vibrant arts and cultures of its native peoples.
Address: 301 N Central Ave
Website: www.heard.org
Telephone: (602) 252 8840
Opening times: Monday to Saturday 9.30am-5pm; Sunday 11am-5pm.