Vilanculos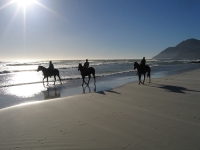 Enjoy horseriding on the beach in Vilanculos © graemenewcomb
Vilanculos is a popular destination and the gateway to the Bazaruto Archipelago, a group of islands incorporated into Mozambique's stunning underwater national park. On day trips from Vilanculos, visitors can enjoy scuba diving and snorkelling; the archipelago's coral reefs and clear waters offer excellent diving. There are horse safaris and day rides along the long unspoiled beaches of the Vilanculos coast which are deservedly popular and afford riders wonderful views. Another fun activity is a sailing trip around the archipelago in a traditional dhow, which is a great way to enjoy the azure waters, sandy beaches, palm trees and coral reefs of the islands. Vilanculos is also a great fishing area, ranked as the best Black Marlin destination in the eastern Indian Ocean.
There are a number of good restaurants and a few bars and shops in the village of Vilankulo (the district is generally called Vilanculos, whereas the town is called Vilankulo), as well as a central market. Although the area has been experiencing a tourism boom and has decent amenities and great accommodation options, it has retained its local flavour. There is even a new international airport on the outskirts of town, with flights to both Johannesburg and Maputo.
Transport: The town is compact and can be explored on foot.