High Museum of Art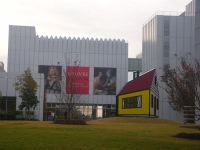 High Museum of Art © Atlantacitizen
Atlantas's High Museum of Art is home to more than 12,000 pieces in its permanent collection and includes 19th and 20th century American and decorative art, important and visiting European collections, as well as contemporary art and photography, and African folk art. The museum has an impressive collection of Civil Rights photography.
Address: 1280 West Peachtree Street
Website: www.high.org
Telephone: (404) 733 4444
Transport: Head northeast on Peachtree Street toward Walton Street NW.
Opening times: Tuesday to Saturday 10am-5pm (open till 9pm on Friday); Sunday 12pm-5pm. Closed Mondays.
Admission: $19.50 adults, $12 child aged 6-17 years. Other concessions available.