The Flatiron Building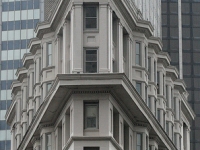 Located in downtown Atlanta, and home to the law firm in the Matlock TV series, the Flatiron Building is officially known as the English-American Building. It was completed in 1897, five years before New York's Flatiron Building, and shares the same unique and prominent flatiron shape. Designed by Bradford Gilbert, the building has 11 storeys and is the city's second and oldest standing skyscraper, listed in the National Register of Historic Places. While the building is occupied by tenants ranging from architectural firms to law offices, its exterior is an impressive site.
Address: 84 Peachtree Street
Transport: Located on the block between Peachtree Street NE, Poplar Street NW, and Broad Street NW.