Hotel de Ville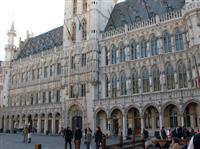 Brussels' city hall is rated as the most splendid civic building in Europe. The foundations were laid in 1402 and it survived the mercifully inaccurate bombing during World War 2 when most of the other buildings on the Grand Place were destroyed. The façade is embellished with gargoyles and images of nobility while the intricate 100 metre-high tower is resolved by a fine statue of St Michel, patron saint of Brussels. Tours are available - well worth it to see the fine tapestries and miscellaneous works of art inside.
Address: L'Ilot Sacre
Admission: Guided tour: €3 (adults), €2.50 (seniors and students), €1.50 (children).