Belgian Centre of Comic Strip Art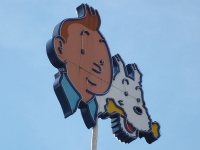 Tintin and his dog Snowy © Belamp
Belgium's love of wacky humour and comic book art come together in this wonderful museum, housed in a fabulous Art Nouveau building designed by one of the pioneers of modern Belgium architecture, Victor Horta. Permanent exhibitions detail the history of European comic strips, while ever-changing temporary exhibitions focus on specific artists, time periods and political contexts. Visitors can see plenty of its most famous subject, Hergé's Tintin, as well as the Smurfs and art from over 670 cartoonists. As cartooning is now considered an art form worthy of serious consideration, the museum aims to trace the history and development of the discipline rather than simply to entertain. Guided tours are available for larger groups.
Address: Rue des Sables 20
Website: www.comicscenter.net/en/home
Telephone: +32 2 219 1980
Opening times: Tuesday to Sunday 10am-6pm
Admission: €10 adults, €7 visitors 12-25. Other concessions available.