Wat Suthat and the Giant Swing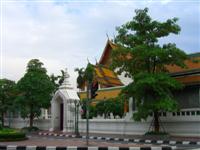 Wat Suthat is among the oldest and largest temples in Bangkok and is home to the beautiful 13th-century Phra Buddha Shakyamuni, a 25-foot (8m) tall bronze Buddha image that was brought from Sukhothai and containing the ashes of Kind Rama VIII. It is also known for its exquisite wall paintings, done during the reign of Rama III. The enormous arch made of teak outside the wat is all that remains of an original swing which was used to celebrate and thank Shiva for a bountiful rice harvest. Teams of men would ride the swing on arcs as high as 82 feet (25m) into the air, grabbing at bags of silver coins with their teeth. The swing ceremony was discontinued in 1932 due to countless injuries and deaths, but the thanksgiving festival is still celebrated in mid-December after the rice harvest.
Address: Sao Chingcha Square
Telephone: (0)2 222 0280
Opening times: Open daily 9am-9pm.
Admission: THB 20