Wat Benchamabophit (The Marble Temple)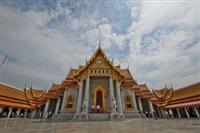 Wat Benchamabophit, also known as the Marble Temple, is constructed of white Carrara marble (even the courtyard is paved with polished white marble) and is known as one of Bangkok's most beautiful temples . The temple's name literally means 'The Temple of the fifth King located nearby Dusit Palace'. Built of Italian marble and designed by Prince Naris, a half-brother of the king, it is unique in that, unlike older complexes, there is no wihaan or chedi dominating the grounds. The temple houses many Buddha images representing various regional styles. Inside the ornate Ordination Hall (Ubosot) is a Sukhothai-style Buddha statue named Phra Buddhajinaraja, and buried under this statue are the ashes of King Rama V. The site also contains the Benchamabophit National Museum.
Address: Si Ayutthaya Rd
Telephone: (0)2 281 2501
Opening times: Open daily 8am-5pm.
Admission: THB 20