Audubon Insectarium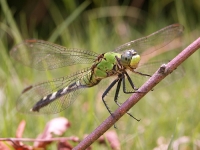 Dragonfly © gilliamhome
If it walks, crawls or flies, find it at the Audubon Insectarium. Set in Custom House, the historic, white marble columned structure in Canal Street, this is the largest freestanding insectarium in the United States, devoted to over 900,000 species of insects. View thousands of live bugs and mounted specimens. The Cooking Show and Cultural Café offer culinary adventures; witness the art of cooking with these creepy criters and sample the treats, or opt for more traditional fare in the insect-themed café.
Address: 423 Canal Street
Website: www.auduboninstitute.org
Telephone: (504) 581 4629, (800) 774 7394
Opening times: Tuesday to Sunday 10am-5pm.
Admission: $16.50 adults, $12 children 2-12, $13 seniors