The Mission San Xavier del Bac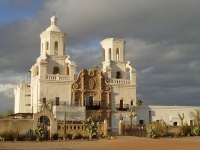 This historic Spanish mission in the Tohono O'odham Nation Reservation is located 10 miles (16km) south of the city and was founded by Father Kino in the 1660s. The present building dates back to the 18th century and the mission is still actively functional, providing great religious and cultural insight to visitors. The mission has a small museum, which showcased artefacts and multimedia presentations on the Mission's history.
Address: 1950 West San Xavier Road, San Xavier District
E-mail: info@sanxaviermission.org
Website: www.sanxaviermission.org
Telephone: (520) 294 2624
Transport: About 20 minutes from the city, heading out on the I-10 West towards Phoenix.
Opening times: Open daily. Mission: 7am-5pm. Museum: 8:30am-4:30pm.
Admission: Free