Tucson Rodeo Parade Museum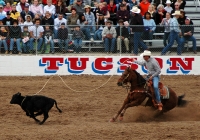 Tucson Rodeo © Woody Hibbard
At the Tucson Rodeo Parade Museum, pioneer artefacts and a recreated Western Main Street represent what Tucson looked like, and what it had to offer in the way of businesses and services, back in the old days of the Wild West. The museum also has an inventory of about 150 vehicles, with everything from small buggies to wagons and coaches on display. The museum hosts the Tucson Rodeo Parade each February, which is great fun for those in the area at the time. Outside of Rodeo Week, the museum is sadly only open between January and March, with guided tours available daily at 10am and 1pm. There are hopes to extend the opening season once sufficient funds have been raised.
Address: 823 S 6th Ave
E-mail: office@tucsonrodeoparade.org.
Website: www.tucsonrodeoparade.com/the-museum
Telephone: (520) 294 3636
Opening times: Monday to Saturday 9.30am-3.30pm, closed Sunday
Admission: $12 adults, $2 children, other concessions available