Trail Dust Town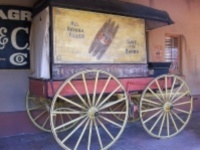 Trail Dust Town is built on the site of a 1950s western movie set; home to a vintage 1920s Fiesta del Presidio carousel and a museum dedicated to Western cavalry and dragoon military units. Designed as a replica of a 19th century Western town, it has Old West souvenir shops, galleries and restaurants, as well as a custom leather store, wooden sidewalks, a central plaza, shooting gallery and a C.P. Huntington train. Hosting Wild West stunt shows, and an annual cowboy show in late February, Trail Dust Town is a great place to visit.
Address: 6541 East Tanque Verde Road
E-mail: info@traildusttown.com
Website: www.traildusttown.com
Telephone: (520) 296 4551
Transport: Located on East Tanque Verde Road, just before the intersection with East Grant Road.
Opening times: Store hours vary and amusements run into the evening.
Admission: Free