Colossal Cave Mountain Park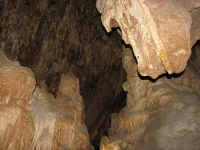 In 1923, the first proper tours of Colossal Cave were conducted using ropes and lanterns; today more advanced options are offered. The cave is considered dry or dormant as it is no longer 'growing' crystal formations, due to a lack of water. The preserved stalagmites, stalactites and flowstone are beautiful to see, and the temperature inside the cave is always comfortably warm. Touring the whole cave takes just under and hour.
Address: 16721 East Old Spanish Trail
Website: www.colossalcave.com
Telephone: (520) 647 7275
Transport: Take I-10 east from Tucson to exit 279 (the Vail/Wentworth exit), turn north and follow the signs for about 7 miles (11km).
Opening times: Open daily. 16 March to 15 September 8am-5pm, 16 September to 15 March 9am-5pm.
Admission: Park fee: $5 per car ($1 for every person more than six people). Cave tours: $13 (adults), $6.50 (children).