Coptic Church of St. George (Mari Girgis)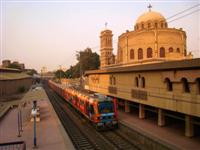 The only round , or domed, church left in Cairo, the Greek Church of St. George features a long set of steps that lead up to the church, where visitors will find a relief of St. George and the dragon wrapped around the outer brickwork of the tower. The original church dated back to the 10th century, or earlier, but as this ancient structure burned down the current church was built in 1904. For centuries, the church alternated between Coptic and Greek ownership, but since the 15th century it has remained Greek Orthodox, and the adjoining monastery of St George is now the seat of the Greek patriarch. Despite this, the Moulid of Mari Girgis, a large Coptic festival celebrating St George, is celebrated at the church each April. The St George Church is most famous for its beautiful wedding hall (Qaat el Irsan), which dates back to the 14th century. St George was a warrior saint imprisoned and martyred near the church, which is built on an ancient Roman tower. Sadly, this wonderful building is often not included in tours of Coptic Cairo but it is well worth the visit and very easy to find. The church and monastery are visible from Mari Girgis Station.
Address: Mari Girgis Street, Old Cairo
Opening times: Open daily from 8.30am to 4pm.
Admission: Free