Asfour Crystal Factory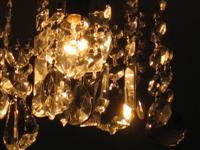 The Egyptians were the first people to develop the art technology to manufacture glass and cut it into beautiful shapes. This ancient civilisation started making crystals 5,000 years ago. Asfour Crystal was established in 1961 and the Asfour Crystal Factory Showroom is the largest crystal factory in Egypt and provides crystals to many countries across the globe. They are the world's single largest employer of skilled crystal workers. Products range from jewellery, 3D laser gifts, figurines and a selection of chandeliers and other light fittings. The jewellery is not of the same standard as Swarovski crystal but some lovely pieces can be picked up at prices up to 60 percent cheaper than what you'll find at retail shops, and there are some beautiful, creative pieces on show. Asfour Crystal is most famous for their crystal chandeliers and there is a vast array to choose from. The hundreds of shining lights and glittering crystals in the showroom make it a magical space, worth seeing even if you don't purchase anything. There is also a small display detailing the manufacturing process, and helpful and knowledgeable sales staff available to help. A tax certificate is given with all purchases.
Address: Industrial Zone: 5 Asfour Crystal, St. Shoubra Al Kheima.
Website: www.asfourcrystal.com
Telephone: (0)2 4220 1032; Showroom: (0)2 4220 1670