Saladin Citadel (Al-Qalaa)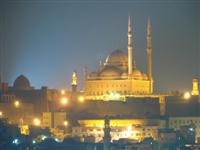 The massive stone fortress of the Saladin Citadel, set in a beautiful tropical location, was built by Salah ad-Din in the 12th century. Visitors have the freedom to roam the castle, which remains in pristine condition, and which boasts incredible views of Cairo. If you are lucky enough to visit on a clear day you will be able to see all the way to the pyramids. The execution room is particularly interesting but just wandering around this ancient citadel is fascinating. The Mohammed Ali Mosque (also called the Alabaster Mosque) crowns the Citadel and this magnificent place of worship is the highlight of the fortress. It was built between 1824 and 1857 and modelled on the famous Blue Mosque in Istanbul. There are two other mosques within the Citadel: the 13th century Mosque of al-Nasir Muhammad, and the 16th century Mosque of Suleyman Pasha. As always, women visiting the mosques must wear loose clothing and be prepared to cover up (there are scarves available at the entrance for this purpose if you do not bring your own). The Al-Gawhara Palace, National Military Museum and Police Museum can also be found inside the Citadel.
Address: al-Qala'a, Shar'a Salih Salem
Opening times: Open daily 8am to 5pm.
Admission: LE 35