Kartchner Caverns State Park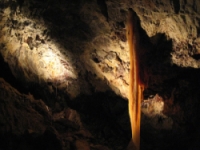 Kartchner Caverns State Park is home to one of the great natural wonders of the American west; there is no known record of the huge living cave being seen before the 1970s and the pristine conditions within have been carefully preserved. A remarkable feature of this cave is that it's a 'wet' or 'living' cave; the calcite formations are still growing and display a stunning variety of multicoloured cave formations. Tours of the caves are available, however there is a lot of walking involved and they are unfortunately not handicapped accessible. Tours take between 90 minutes and two hours.
Address: Benson, Arizona.
Website: www.azstateparks.com/Parks/KACA/index.html
Telephone: (520) 586 2283, (520) 586 4110
Transport: The park is located nine miles south of I-10, off State Hwy 90, exit 302.
Admission: $6 per car. Cave tour: $22.95 adults, $12.95 children.