Arizona-Sonora Desert Museum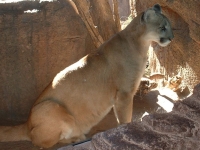 Mountain Lion © Stephen Lea
This world-renowned museum is more like a zoo, with the majority of the exhibitions outside showcasing the surrounding desert's creatures in their natural habitats. Exhibits include mountain lions, otters, coyotes, bighorn sheep, lizards, and a walk-in aviary. Located in the Sonoran Desert, the setting of the museum also offers awesome views of the surrounding mountain ranges, which visitors can enjoy while touring the botanical garden, natural history museum, art gallery, and aquarium. The gift shop has an excellent selection of Sonoran desert souvenirs. The interactive museum is a must for any visitor staying in Tucson for more than just one day, and kids will love seeing the animals and experiencing the desert landscapes.
Address: 2021 N Kinney Rd
E-mail: info@desertmuseum.org
Website: www.desertmuseum.org
Telephone: (520) 883 1380
Opening times: Times vary according to season.
Admission: $22 general admission, other concessions apply.