Arizona-Sonora Desert Museum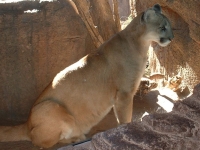 This world-renowned museum is more like a zoo, showcasing the surrounding desert's creatures in their natural habitats. Exhibits include mountain lions, otters, coyotes, bighorn sheep and lizards, and there's a walk-in aviary. Located in the Sonoran Desert, the setting of the museum also offers awesome views of the surrounding mountain ranges. The gift shop has an excellent selection of Sonoran desert souvenirs. This is a must for any visitor staying in Tucson for more than just one day.
Address: 2021 North Kinney Road
Website: www.desertmuseum.org
Telephone: (520) 883 2702
Transport: The Desert Museum is about 2.5 miles (4km) down Kinney Road.
Opening times: March to September 7:30am-5pm, October to February 8:30am-5pm. No entry after 4:15pm. open until 10pm Saturdays in June, July and August.
Admission: June to August adults $12, children $3. September to May adults $14.50, children $4.50.