Sabino Canyon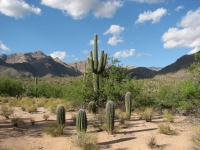 Of the many natural attractions in the Tucson vicinity, Sabino Canyon is one of the most popular. This gaping divide in the Santa Catalina Mountains is the site where ancient Hohokam people constructed irrigation dams while mammoths still roamed the area. After a six-mile (9.6km) hike, enjoy swimming in the crystal clear pools at Seven Falls. When the weather is a little too hot for hiking, visitors can take a ride on the Sabino Canyon Tram, which takes a 45-minute tour with nine stops along the canyon.
Address: 5900 North Sabino Canyon Road
Website: www.sabinocanyon.com
Telephone: (520) 749 2861
Transport: Located in the Santa Catalina Mountains and the Coronado National Forest north of Tucson.
Opening times: The park is open daily from dawn till dusk.
Admission: $8 adults, $4 children under 12.