Reid Park Zoo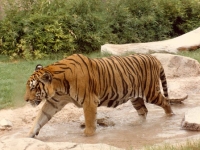 While maybe not the best zoo in the world, Reid Park Zoo is still one of the foremost attractions in Tucson. The animals are comfortably at home in pleasant natural surroundings; envy the little polar bear cubs as they happily float in ice-cold water while it's 100ºF (38ºC) in the scorching Tucson summer. Kids can hand-feed giraffes, and there is also an interactive wet play area for kids (you'd better bring a towel)! Because of its relatively small size, the zoo can be explored leisurely in less than two hours.
Address: 1030 South Randolph Way
Website: www.tucsonzoo.org
Telephone: (520) 881 4753
Transport: Off Randolph Way, north of 22nd Street
Opening times: Open daily from 9am-4pm. Closed Christmas and Thanksgiving.
Admission: $7 (adults), $3 (children aged 2-14).