Tucson Botanical Gardens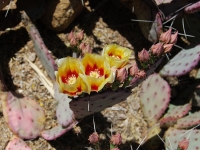 The Tucson Botanical Gardens are a major attraction, not just for the rich collection of cactus and desert wildflowers. An educational walk highlights the history of the native Tohono O'odham Indians and the work local scientists have done to preserve native seeds. Be sure to visit the traditional Mexican-American neighbourhood garden (Nuestro Jardin), and relax on the shaded restaurant patio.
Address: 2150 North Alvernon Way
Website: www.tucsonbotanical.org
Telephone: (520) 326 9686
Transport: Located on Alvernon Way between Pima Street and Grant Road.
Opening times: Open daily 8:30am-4:30pm, closed January 1 and 4, Thanksgiving and December 24-25.
Admission: $8 (adults), $4 (children under 12).