Valley of the Moon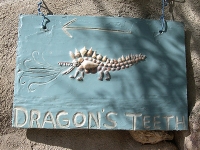 Delve into fantasyland in the desert, with historic Western sites in a magical setting, created by George Phar Legler in the 1920s. Mineralised rock cliffs, caves, pools and garden miniatures have merged with tropic and desert flora to make what Mr. Legler called the "Fantasy Touch of Three", referring to Edgar Allen Poe, Lewis Carroll, and Robert Louis Stevenson. There are tours, shows and a gift shop on site. The Calley of the Moon also hosts events ranging from weddings to concerts and yoga retreats.
Address: 2544 East Allen Road
E-mail: valleymoon1@yahoo.com
Website: www.valleymoon.info
Telephone: (520) 323 1331
Transport: On East Allen Road, between Tucson Boulevard and Cactus Boulevard.