Walter Sisulu National Botanical Gardens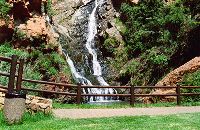 Witpoortjie Waterfall © mister-e
Johannesburg is one of the most densely treed cities in the world and has a number of pleasant parks and gardens. But the Walter Sisulu National Botanical Garden, in the west of Johannesburg, is the city's most superb green lung.
This urban oasis covers 741 acres (300ha), offering lush gardens and scenic hiking trails. The botanical garden was founded in 1982, with the area used consistently for hiking and outdoor excursions since the 1800s, and it is consistently rated as the best place to get out into nature in Gauteng by voting locals.
The gardens are a terrific place for birdwatchers and garden-enthusiasts interested in seeing a variety of fauna and flora. There are over 200 bird species as well as over 600 plant species in the gardens.
The landscapes are a mixture of grassland and savanna with some rocky outcrops and lots of little streams and kloofs. Parts of the garden are beautifully landscaped but swathes have been left as unspoilt wilderness.
After a walk or hike, it is common practice to enjoy a picnic on the lawns at the foot of the breath-taking Witpoortjie waterfall. One of the garden's greatest attractions is the pair of Verreaux's Eagles that nest on the cliffs beside the waterfall, frequently sighted by visitors on the lookout.
Address: End of Malcolm Road, Poortview, Roodepoort
Website: www.sanbi.org/gardens/walter-sisulu