Melville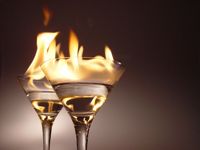 On fire © Nik Frey
Melville is an old suburb known for its quirky, artistic atmosphere, eclectic little shops, pavement cafés, fun bars, restaurants, and clubs. This trendy suburb is a hive of activity on any given night of the week.
It is the place to go out and carouse in Johannesburg if you prefer a bohemian vibe to the preppy, upmarket nightlife that generally characterises the city. Seventh Street is the central zone from which all the character emanates and is a great place to start with its collection of book and antique shops, cafés, and other interesting storefronts.
Partygoers barhop into the small hours, but tourists should refrain from walking around too much at night, and be aware of pickpockets, as crime has risen in the area in the last few years. Sadly, Melville, once so in demand, has been hit somewhat by the recession and some of the unique shops that made it so special have closed down.
The area is still appealing but is now more grungy and rundown, mainly booming at night. It has a reputation as one of the drug centres of the city and there are many beggars in the streets. Having said that, the funky personality of Melville is resilient and the nearby student residences keep it popular and energised.
Address: West of the city centre