The Apartheid Museum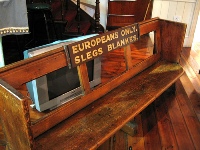 Apartheid Museum © g-hat
South Africa's tragic history of black oppression is chronicled in this building, situated near Gold Reef City. Relics of the Apartheid system, which banned non-whites from certain areas and from receiving a proper education, as well as forbidding interracial relationships and numerous other freedoms, can be found here, right down to a bench marked for 'Whites Only'. Visitors often describe the experience of the Apartheid Museum as 'heart wrenching', which is as it should be, but at the same time the story of the struggle over adversity is inspirational. To give some idea of the everyday realities of racial classification, the foundation of the Apartheid system, visitors to the museum are arbitrarily classified as either 'white' or 'non-white' upon arrival and can only enter the museum through the designated entrance for their classification. Due to graphic content, the museum does not allow children under the age of 11. Probably South Africa's most impressive and hard-hitting museum, a visit to the Apartheid Museum is a must for visitors to Johannesburg interested in the country's history. The museum often ranks as the number one tourist attraction in the city. Allow at least three hours if you want to explore thoroughly.
Address: Northern Parkway and Gold Reef Road, Ormonde, Johannesburg
Website: www.apartheidmuseum.org
Telephone: 011 309 4700
Opening times: Tuesday to Sundays, 9am to 5pm.
Admission: R65 (adults), R50 (children, students and pensioners).