The Museum of Marrakech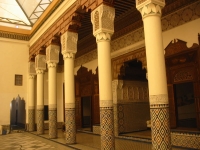 The Museum of Marrakech is located in the Dar Menebhi Palace, built at the end of the 19th century by legendary Mehdi Menebhi, in the old centre of Marrakech. The palace was restored by the Omar Benjelloun Foundation and converted into a museum in 1997. The house itself is representative of classical Andalusian architecture, with fountains in the central courtyard, carvings and beautiful tiles. The museum holds exhibits of both modern and traditional Moroccan art, as well as historical books, coins and pottery.
Address: Place Ben Youssef, Medina
Website: www.museedemarrakech.ma
Telephone: +212 (0)24 44 1893
Opening times: 9am to 6.30pm daily.
Admission: 30 Dirham