Bab Agnaou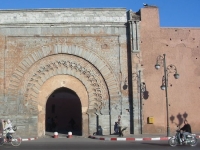 Bab Agnaou © Donar Reiskoffer
Bab Agnaou is one of the 19 gates of Marrakech and was built in the 12th century, in the time of the Almohad Dynasty, and stands the innermost and most ornate of the city's gates and was one of the first stone monuments built in Marrakech.
The colour of the stone seems to change drastically depending on the light, weather and time of day, and the bas-relief is sophisticated and still impressive to this day. Experts believe that the function of the gate may have been nationally symbolic, as suggested by the corner-pieces which are decorated with floral designs, framed by three panels with inscriptions from the Quran.
Bab Agnaou is also a geographically convenient sight for tourists exploring the city as it forms the entrance to the royal kasbah in southern Marrakech. The kasbah, built by the Almohad sultan Yaqub al-Mansour, is home to the El Mansouria Mosque, the El Badi Palace and the Saadian Tombs, all magnificent tourist attractions, making this a part of the city that seldom goes unexplored for visitors. Of all Marrakech's gates Bab Agnaou is generally acknowledged as the most picturesque and it is included in almost all the walking and sightseeing tours of the area.
Address: Entrance to the medina (ancient Moorish quarter) on Route d'Ourika.