Majorelle Garden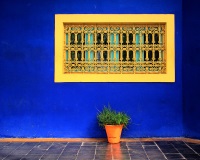 Majorelle Garden, Morocco © Bjorn Christian Torrissen
The Majorelle Garden is a botanical garden designed by the French artist, Jacques Majorelle, in 1924. Previous owners have included Pierre Bergé and Yves Saint-Laurent (whose ashes were scattered there when he died in 2008). The garden is also home to the Islamic Art Museum of Marrakech, which houses an exhibit of North African textiles from Saint-Laurent's personal collection, and paintings by Majorelle.
The garden is home to more than 15 bird species endemic to North Africa, and full of ponds and water features. The garden took 40 years to create. It is one of the most popular tourist sites in Morocco and a must for all visitors. The villa in the centre of the garden, which houses the museum, is a stunning blue, accented with other bright colours, a mixture of classic Moroccan features and art deco creativity. This is a particularly good attraction for a hot day as the gardens are shaded and always seem much cooler than the rest of the city. There is a lovely café in a shaded courtyard for refreshments and a gift shop selling YSL products, among other things. Although the gardens can be explored in under an hour, this is a place that can be enjoyed for a few hours, escaping the bussle of Marrakech.
Address: Rue Yves Saint Laurent، Marrakesh 40090, Morocco
Website: www.jardinmajorelle.com
Telephone: +212 5243 13047
Opening times: Opening times vary according to season: October to April, 8am to 5:30pm; May to September, 8am to 6pm; and during Ramadan, 9am to 5pm.
Admission: MAD 70 (garden), MAD 30 (museum). Concessions are available.