Souks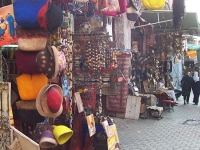 Marrakech Souks © Neil Jones
Marrakech is home to a labyrinth of bustling souks (workshops and markets) offering the city's most fascinating wares. Whether shopping or exploring, they are a must for any visitor. At the northern end of the souks, best accessed from the Ben Youssef Mosque, there are blacksmiths making wrought-iron goods and the distinct odour of leather workshops. The stalls emerge further south and are met by the Rahba Kedima, a market famous for its bizarre offerings of animals and eccentric potions for spells. You will find jewellery, clothes, crockery, carpets, lamps, food, spices, metalwork, leatherwork and woodwork; the market is colourful and crowded with plenty of fodder for keen photographers. There are real bargains to be found if you haggle hard: the first price given will invariably be more than double what would be a fair price as the merchants expect customers to bargain. Stay calm and polite but be firm; the merchants can be extremely persistent once they sense interest so only ask the price of an item if you are genuinely interested. Don't be shy about comparing prices as many stalls sell the same merchandise. The souks are a wonderful experience and many foreigners visit repeatedly during their stay, but although guides are absolutely not necessary in the market, it is advisable to stay vigilant and keep an eye out for pickpockets.
Address: From Ben Youssef Mosque to Rahba Kedima
Transport: The souks are best explored on foot.