El Badi Palace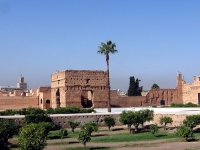 El Badi Palace © Oliver Mallich
The El Badi Palace ('the incomparable palace') consists of the remnants of a glorious palace built by the Saadian King Ahmad al-Mansur, in 1578. The original building is thought to have had about 360 rooms, a courtyard and a pool, and was decorated with Italian marble and large amounts of Sudanese gold. It also had a small, underground jail where the king kept his prisoners. The design of the palace was influenced by Granada's Alhambra, but the original palace was torn apart by Sultan Mawlay Ismail.
Today, the once luxurious palace is a ruin consisting of some intact rooms and numerous walls, terraces, gardens and foundations. The underground jail can still be explored and there are a number of beautiful mosaics surviving, but visitors have to use some imagination to conjure up the onetime grandeur of the place. The ruins still retain some their romance, but very little effort has gone into maintaining or preserving the site. Despite the ramshackle nature of the attraction anybody with an interest in history and archaeological sites should enjoy exploring the site. There is little or no shade so travellers should go prepared for the sun and should avoid the hottest part of the day. There is a small admission fee.
Address: Ksibat Nhass, Marrakesh, Morocco.
E-mail: contact@palais-el-badi.com
Website: www.palais-el-badi.com/en
Telephone: +212 5243 78163
Transport: Like much of Marrakech, a short walk or shorter taxi ride are the most convenient options.
Opening times: 8am-5pm every day.
Admission: About MAD 10.