Lisbon Oceanarium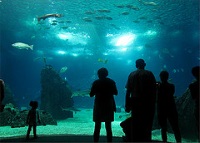 Oceanário de Lisboa © Ana Guzzo
Marketed as the second best aquarium in the world, the world-class Lisbon Oceanarium is the most impressive achievement of EXPO '98, which used to be an abandoned waterfront. The centrepiece of the stone and glass building is the 1.3 million gallon (5 million litre) holding tank.
The Oceanarium consists of four distinct ecosystems that replicate the Atlantic, Pacific, Indian, and Antarctic oceans, each featuring the aboveground birds, amphibians and reptiles associated with those waters. Otters splash and dive in the warmer Pacific waters, while penguins shuffle around in their tuxedos in the Antarctic section.
This attraction is one that the Portuguese nation is proud of and is an absolute must-see for the whole family.
Address: Esplanada d. Carlos I
Website: www.oceanario.pt